Portfolios are tools of the 21st century that move us in a direction of increased reflection, learning, and individual growth. Professor Kronenberg's digital portfolio project served as a catalyst for thinking of ways in which digital portfolios can be utilized to enhance the classroom environment, and it played a major role in influencing the progression of other projects within the Mellon Fellow community of practice.
This project was about how portfolios can provide creative spaces for reflective learning. Prof. Kronenberg explored how they can create opportunities for students to practice and showcase 21st century skills, such as creativity, critical thinking, problem-solving, decision-making and learning, communication and collaboration, and information and communications technology (ICT) and information literacy. For this project, several groups of students created such portfolios to showcase their learning and their work: Rhodes student associates and student employees, Rhodes students studying abroad during the 2016 Maymester in Germany, and Rhodes students learning through a an independent study (directed inquiry) course or an internship.
After this round of portfolios, we took the lessons learned and applied them to our new project, the imagined community simulation "Pfefferhausen". Students created fictitious sites for their characters and started building the imagined city of pfefferhausen. The project is still evolving, but has garnered national and international attention. Prof. Kronenberg has already presented about this as a keynote speaker and invited speaker at several conferences will present findings during future keynotes, workshops, and conference presentations as well.
Learn more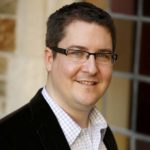 Felix Kronenberg
Associate Professor of Modern Languages and Literatures
Director of the Language Learning Center
Dr. Kronenberg's research and professional interests include physical, virtual, and hybrid learning spaces: classroom and informal learning space design, language center design, digital storytelling, computer simulations/games and L2 acquisition, and blended learning.